Ordinary profit of all banks was on the recovery trend after a deficit in FY 2008 because of the US subprime loan problem and Lehman Shock. Banks have recovered from such losses thereafter.
 However, the prolonged low-interest rate environment has a negative influence on net interest income in recent years.
 The latest data shows ordinary profits of FY 2018 over \3.2 trillion.
Ordinary Profit and Net Income of All Banks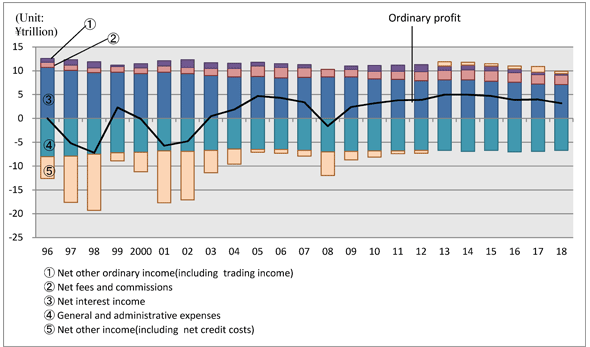 Note:
(1) All banks consist of city banks, regional banks, regional banks II, trust banks, and other banks.
(2) FY (Fiscal Year) : April 1 〜 March 31
Please see the following website for more information about Financial Statement of Banks.